INDEPENDENCE DAY
Winner!
Kicking hard. Splash! Pop! Dive! Jump!
There go four! four go in the pool
Kicking their hands over their heads
Making big waves.
"GO! GO!"
One person giving way
Another person is passing that person over there
One person hitting her hand on the wall.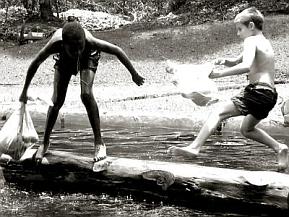 King of the Plank
On Independence Day we (the Sakeji students) went to the pool and had swimming races and other water activities. One of the activities was called King of the Plank. In this game, two people tried to knock each other off a log in the pool, which was held by a wooden structure. The competitors had to hit each other with pillowcases that were filled with sponge balls. The person who stayed on the log the longest was the winner of King of the Plank.
The Big Bang!
Bang! Down fell the bamboo and everyone went to the ground!
"Come on Kukie, we better start running! Oh look Kukie, it's time for the fire works."
"Whoosh!" Up went a firework. "Ohh! Ah!" went everyone. "Bang! Bang!" went the fireworks!
Then round and round all sorts of colours came out of the fire works. "Look Kukie, sparklers and they have such nice colours." "Pop! Pop! Pop!" Thank you Mr. Beirworth. "Pop! Pop!"
Flag Ceremony
Under the flag we stood
And sang the anthem as best we could.
Proudly we watched our flag raising,
There was our flag gently swaying
Swimming Races
The whistle sounded, we dived
First place was all we thrived!
We heard loud yells and cheers,
Encouraging us to forget our fears
Then to our delight the wall was coming closer
And our race was complete
Bonfire
The bonfire was blazing
And children around it were running
Everyone was cheerful
Although the fireworks were quite an earful.
After our snacks we ended our day
With our heads on our pillows feeling relaxed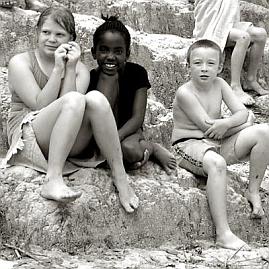 The Exciting Fire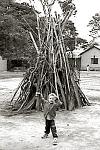 On Independence Day we had a big fire called "The Bonfire". It was quite a large fire. When it was lit, the place around it was filled with light. Very soon we started running around it because it is tradition to run around it. Whenever a bamboo cracked we all screamed and fell down. The bonfire was very hot and I guess most people were hot too. We all had a wonderful day.