Canadian Invasion at Sakeji!
We have had a lot of new Canadian staff here at Sakeji in the past few months. All these new faces are happy to be here!
The LaRose Family
Mr. and Mrs. LaRose are a couple helping from Canada. They have three children: Josh, age 4, Emily, age 3, and Ethan, age 1. They arrived here at Sakeji in June. Mr. LaRose had already visited Zambia, working at Kalene, Kabompo, and Chitokoloki mission stations. there he did maintenance and scripture work.
Mr and Mrs. LaRose met in their home assembly and got married in 1997. Mr. LaRose wanted to come back to Zambia and the Lord worked things out for them. They plan to stay for two years.
Mrs. LaRose is happy here but missed their family and friends in Canada. She still needs to get used to the hot weather. She hates the bugs and creepy crawlies. Since there are four pre school children here, she has been teaching them. Her hobbies are reading and going for walks. Mrs. LaRose doesn't miss the busyness of Canada. She likes it here in Zambia, but wouldn't mind going home after two years.
Mr. LaRose helps with maintenance and scripture. He likes Sakeji but misses his family, friends and different landscapes. He also misses having a local hardware store. He likes Zambia because of the people, the climate, and because there's no winter. Bugs and creepy crawlies don't bother him. He enjoys swimming, but says the water's too cold.
Mr. LaRose thinks the current changes being made at Sakeji are good.
Josh and Emily like it here. They have found friends at Sakeji and enjoy all the activities. Josh said that he missed his cousins. Emily said she missed the water (meaning the beach).
They are all a great help at Sakeji. Even the children are a help by being entertaining!
The Robertson Family
Tom and Lana Robertson have five children. Emily, 18, Katrina, 15, Kayla, 12, Hannah, 10, and Deirdre, 8. Emily is now in Canada finishing her last year at CEGEP. Katrina does home schooling while her three younger sisters go to Sakeji School.
Tom is the maintenance man. He puts in plumbing systems, makes sheds, fixes roads, and many other things. Lana teaches French to the grade six and sevens. Together they are dorm parents to the boys.
They came with their family from Quebec Canada. They learned about Sakeji one year ago in a brochure that had been sent out throughout North America to all Christian Assemblies. It took nine months to get passports, vaccinations, job applications, and not to mention selling their house. They are at times home sick, although they like the vegetation and exotic fruits that grow here. The Zambian people are very friendly. Lana said she will miss the snow, already falling in Canada, as well as the skiing, sledding, and skating. She misses the changing colours of fall leaves. The tree in Zambia she likes best is the Frangi-pani. She likes it's colours of pink, white, and yellow. Tom said that the only thing he really misses is family and friends. The things he likes the most are cleaner air, quiet nights, and wholesome food. He enjoys working with the Zambian people very much and likes learning Lunda even though it's quite hard.
Tom, Lana, and family like Zambia very much. They plan to stay two years.
Miss Patton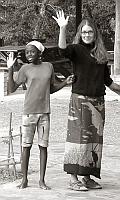 Miss Georgia Patton is a new assistant teacher at Sakeji School. She's staying here for this whole term. She was born on August 24th, 1982, and became a Christian when she was sixteen. She lived on a farm in Manitoba, Canada and worked at Camp Sandy Haven for the mentally disabled. She was a lifeguard in high school. The sports she likes are kick boxing, ultimate frisbee, badminton, basketball, and volley ball. She is practicing to be a teacher. In her family, there are her parents, and her brother and sister. She likes children. Her favourite food is lasagne. She has two pets, a dog and a cat.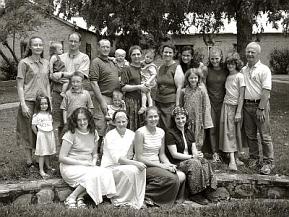 The Ronald Family
My name is Caleb Ronald. I come from Oxbow in Saskatchewan, Canada. My family came to Sakeji in August. We drove from Lusaka to Sakeji, and it took us two days to get here. My Dad teaches grades six and seven, and my Mom is the school nurse. I have two younger sisters named Shoshanna and Naomi. I'm in grade one here with Miss Young. I like it here because I have lots of new friends. My favourite Sakeji food is the home made ice cream! It will be different having no snow at Christmas. But it's nice to be able to swim two times a week.
Miss Shostal
David and I interviewed Miss Shostal. We first asked her how she likes Sakeji School, and this is what she said. "I feel that God has lead me here for a purpose. Even though I am only here for a short time, this school has opened my eyes to things I haven't experienced or seen in Canadian Christian Schools. If it is God's will for the school to expand, I think it will do well. And if it is God's will to keep the school as it is, I think it is strong as a rock." We then asked her how she liked Independence day. She thought it was a good day to learn some history of Zambia and remember other countries as well. She said that she loves Zambia, the landscapes, and especially the people. She thinks they are all so kind.
Last of all, we asked her what her plans for the future are. She said, "I'm not sure. I was thinking about long-term mission work somewhere, but God will lead me to what I'm meant to do."
Miss Swan
Miss Janelle Swan came on October 18, 2003. She has always had a desire to spread the gospel, and when she received a brochure about Sakeji School, she felt God wanted her to come. She loves it here at Sakeji. She likes the kids and the teachers. Most of all she is just glad to be here and remembers how she prayed to God to show her what to do, when she received the brochure. She's helping around the school in different senior and junior classes. She is hoping to stay here for a year, Lord willing.
Miss Avery
We have a new assistant teacher from Ontario, Canada called Miss Avery. She will stay, Lord willing, two years. Miss Avery came because the Lord kept putting Sakeji on her heart. A missionary, Eunice Poidevin, gave her the brochure and told her to pray about coming here. Until three months before she came, she knew there was a need, but had no desire to come. She asked the Lord if He really wanted her at Sakeji, to give her a desire to come. Within a week, her heart had been changed and she had a strong desire and peace about coming to Sakeji. Miss Avery's hobbies are travelling, making music, reading and painting.