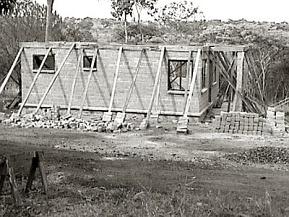 The Building Project
Mr. LaRose has been working at Sakeji building houses for Miss Young, Miss White and a family house.
In Canada, Mr. LaRose worked for a builder as a project coordinator and estimator. The company would build forty to fifty houses a year. He heard of Sakeji School from a previous visit to Zambia. When the building project here is finished, he will stay for further projects if needed. He said that the houses will be finished early next year during January and March.
A Couple of Couplets
A pack of foxes
Hid in some boxes.
I had a whale
Which turned pale.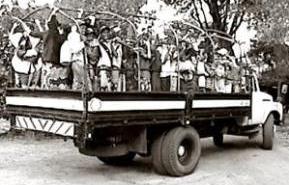 Children's Home Trip
Today we went to the Children's Home. We drew pictures for them. We saw some pigs and some cows. The cow had a calf. Here are some names of the girls and boys: Kukenga, Anita, Jonathan, Precious, Joy-Lynn, and Sun. The kids sang some songs. We played with them. The kids were cute. I was happy.
How To Make a Pot
In the village there is a man who makes pots. At first he goes to a little stream and gets some clay. Then he pounds the clay and sifts the clay to get the stones and sand out. After he sifts the clay, he puts water in the clay. Then he rolls it into a long snake. He wraps it around. Then he gets a certain kind of stick and smoothes it out at the top. Then he cuts in with a knife a nice pattern. After that he lets the pot dry for five days. Then he puts them into the fire and the bark.
The Turbine Project
Mr. Mast and his crew have been working on the turbine project. They are hoping to have the turbine running near the end of the year. They are praising God because they have had hardly any trouble on the project, but cutting the channel through has been very hard.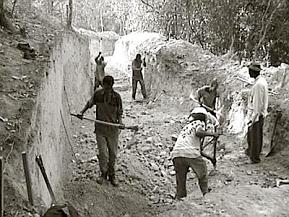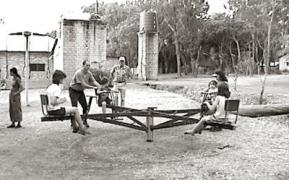 Florence Nightingale
Our class did an assembly about Florence Nightingale. She loved to play with her doll and play that her dolls were sick. When a shepherd's dog had a sore leg, she helped it. One day she became a nurse and saved soldiers. In the play I was Florence Nightingale. We can be just like her and help people.